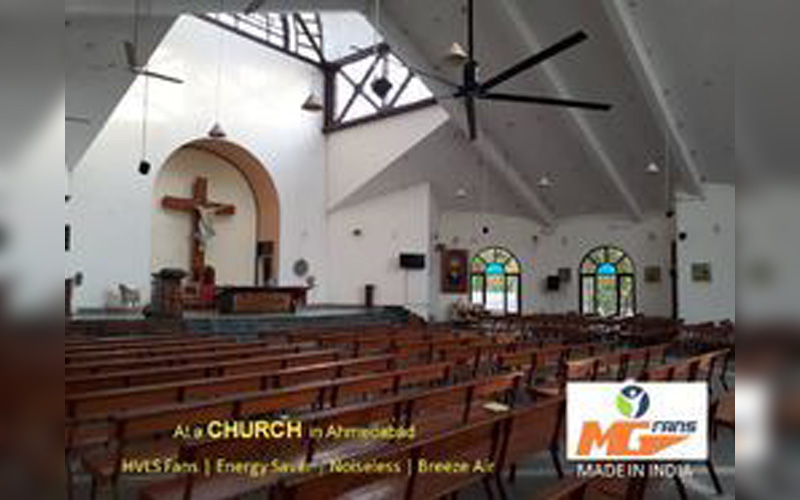 Undoubtedly, we have become the prior choice of various industrial and commercial sectors looking for High Volume Low Speed Fan. There is no match to our High Volume Low Speed Fans when it comes to quality, performance and affordability. M.G. Engineers is counted as one of the dependable High Volume Low Speed Fan manufacturers and exporters in Ahmedabad. These are available in various specifications and details to meet the requirement of the application areas.
Companies and organizations that need high volume low-speed fans in India always end up choosing us. This happens because of the reputation we have made for ourselves in the market. Manufacturing and supplying top-quality fans is our priority and that's exactly what we do. M.G Engineers is one of the most reliable High Volume Low Speed Fan Manufacturers In Ahmedabad. Our fans come at an extremely affordable price without compromising the overall quality. These fans work on the simple principle that efficiency is improved significantly if the process of moving the air is slow rather than fast and the name of the product reflects exactly that principle.
The use of optimum quality materials in the manufacturing make the High Volume Low Speed (HVLS) Fan highly durable, sturdy and resistant to corrosion. In addition to this, features like easy installation, hassle-free operation and low maintenance cost have also made our HVLS (High Volume Low Speed) Fans ideal for applications in ceramic industry, factories, schools, restaurants, warehouses, gaushalas, and more.
Features of High Volume Low Speed Fan -
Precision in engineering
Compact design
Excellent quality and reliability
Exceptional performance
Electric bill efficient
Customization available as per buyer's preferences
Huge network for timely delivery
Industry leading prices
Customer assistance by professionals
With quality products and prompt services, we have excelled amidst the Top 10 High Volume Low Speed Fans Suppliers, based in Gujarat (India). Wait no more. Fill in your details and let us help you with great deals ahead…
Reasons To Invest In Our High Volume Low Speed Fans:
Precise Performance – You'll be surprised with the precision with which these fans move the air in a place. Air will be directed to the targeted place depending on the installation.
Smooth Flow – The thing about slow moving air is that the flow always remains smooth. The result is a comfortable and noiseless air flow.
Comforting – Unlike other big fans available in the market, our fans are actually comforting. They maintain the preferable temperature effortlessly.
With an experience of a decade, we've become one of the dependable High Volume Low Speed Fans Exporters and Suppliers In India. So, if you want a reliable High Volume Low Speed Fan, give us a call right now.